Hand and Eye Necklace
Light By Debra Skyler
---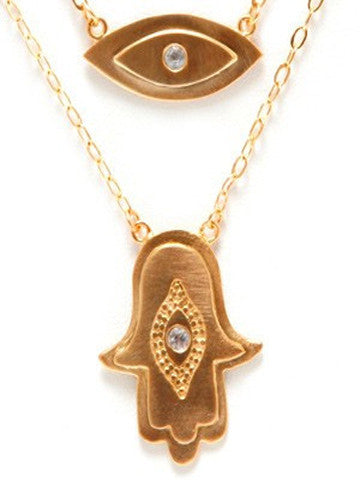 1" long by 2/8" wide Gold with 1 handset 3mm White Sapphire.
7/8" wide by 1 1/8" long Vermeil (Gold on Silver) Hand with etched Eye 1 handset 3mm White Sapphire on a 50" link chain.

Protective talismans, such as the Hasma and the Nazar aka the Blue Eye (an amulet of the blue glass that is traditional in Turkey and Greece), are used to ward off any curses that are cast by the malevolent gaze of ill-wishers. This curse-ridden gaze is called the Evil Eye and it is often considered to spawn from intense envy.

The Hamsa, known as the Hand of Miriam in the Judaic faith and the Hand of Fatima in Islam, is an ancient symbol (often in the form of an amulet) that provides protection against the Evil Eye and ill-wishers. It also serves to guard sojourners, to summon good fortune and success, and to evoke good will and love.
N572V/S Hand & Eye Necklace.
Related Products
---